Fire Damage Can Bring Your Saugus Business to a Halt
3/15/2021 (Permalink)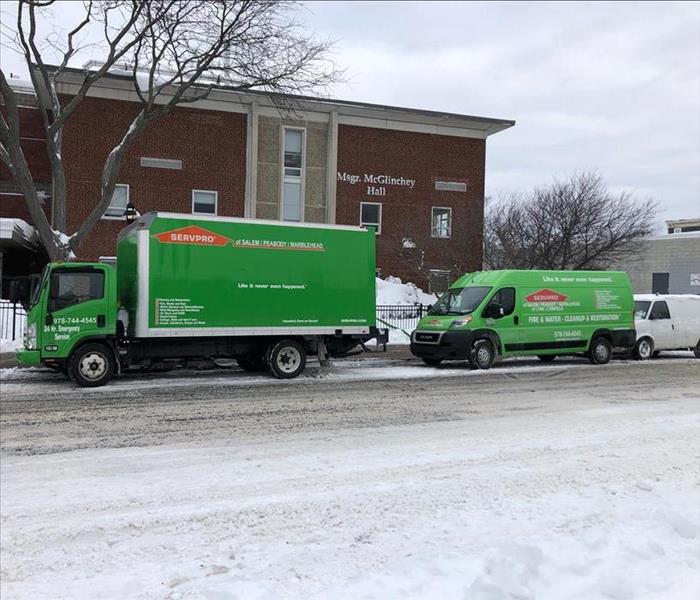 A business not running is not a good way to live. Call SERVPRO for fast the action fire restoration service you need.
SERVPRO can help Saugus companies get back on track after a fire
When a fire takes place in a commercial building, it typically sets off the sprinkler system. If firefighters are involved, water and chemicals from firefighting efforts can be a problem. That is why water extraction is vital and should happen quickly.
Get Help Fast
If your company needs fire damage restoration in Saugus, we can help. Secondary damage from hidden moisture can include:
Mold and mildew
Structural damage from hidden water
Ruined ceiling tiles
Warped flooring
Damaged content
Longer cleanup time
Commercial Fire Damage Restoration
Not only do we deal with water extraction, but we also get busy cleaning up soot. Soot can cause damage to whatever it touches. There are different types of soot, and depending on the composition, it can stain surfaces. It also has a foul odor that needs to be addressed. We get busy:
Cleaning every nook and cranny of your business
Using industrial-strength dehumidifiers and air movers to help with drying
Removing charred debris and unsalvageable items
Cleaning contents and inventory
Restoring rather than replacing whenever possible
Getting your company back on its feet quickly
For commercial fire damage restoration service in Saugus, contact SERVPRO of Saugus, West Lynn at (978) 744-0409.