Fire Damage Gets Worse the Longer You Wait
2/14/2021 (Permalink)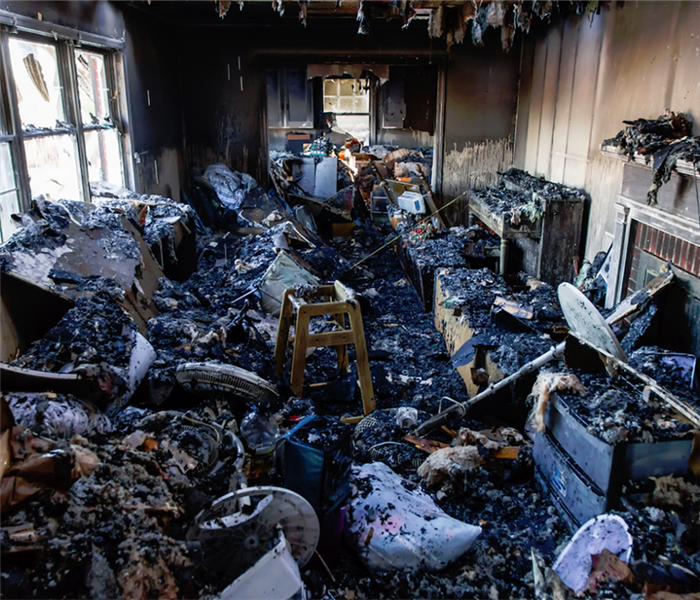 Recent fire? Don't delay, contact SERVPRO for fire damage remediation services immediately after the fire fighters leave.
Don't Let Corrosive Soot Residue Further Damage Your Saugus Home – Call SERVPRO for Skilled Fire Damage Assistance!
You will find the town of Saugus within Essex County in the state of Massachusetts. With a population of 26,628 when the United States Census got taken in 2010, this is a bustling area rich with history and beautiful communities. The name Saugus is believed to come from Native American roots, meaning "extended" or "great."
The Hammersmith, now known as Saugus Iron Works, started operations in 1646. This was the first ironworks integration within North American and the most advanced at the time. Moving forward to the American Revolutionary War, roughly 100 men from Saugus joined the fight. In 1804, Saugus entered into the ice industry when Frederic Tudor started cutting ice from a family farm pond to have it shipped off to Martinique.
Notable People from Saugus, Massachusetts
There are several important people that either came from or lived in the Saugus, MA, area, including:
Wade Boggs – Professional athlete, former baseball player
John A. Curry – Formerly president of Northeastern University
Kevin Wortman – Professional athlete, former hockey player
Vincent Ferrini – Poet and writer
Nathan Ames – Famous inventor known for patenting the very first escalator back in 1859
Visiting the Area or Planning a Move to Saugus
The town of Saugus is well-known for being a great location to raise a family while remaining close to Boston and other major cities. You will find various incredible hotels and inns in the area if you are planning a visit. Should you be looking to move here, plenty of public and private schools offer an excellent education.
Some of the top attractions and eateries in the area worth checking out include:
Saugus Iron Works – Local landmark
Jimmy's Steer House – Steakhouse and American cuisine
Breakheart Reservation – Parks and nature destination
Border Café – Southwestern and Mexican fare
Iron Town Diner – American diner food
Square One Mall – Shopping center
Harrows Chicken Pies – Fast food and famous chicken pies
Lendy's Deli & Restaurant – American cuisine, deli selection
Sunny Relax Spa – Day spa and massage therapy
Saugus Tanker Crash in 2011 Leads to Fire of Several Nearby Buildings
Accidents can happen at any time, even leading to fire from an outside source. In July 2011, a fiery tanker crash caused several nearby buildings to become caught up in the blaze. The fiery explosion happened just after 2 am and it caused local first responders to work well into the daylight hours to address the nearby home and greenhouse buildings that caught fire.
Saugus Residents Can Get Quality Soot Removal and Fire Damage Help From SERVPRO
After a fire, harsh smoke residue and soot settles on a variety of surfaces throughout your Saugus interior. SERVPRO carefully chooses which methods and products we use to remove these elements to restore your home to a pre-fire condition.
There are several ways that we can handle soot and fire damage in Saugus, including:
Soda blasting
Dry ice blasting
Agitative cleaning techniques
Chemical cleaning agents
Controlled demolition – General Contractor License #: CS-114298
Fire damage must get addressed as soon as possible to eliminate the chance of costly secondary damage. Call SERVPRO of Saugus, West Lynn at (978) 744-0409 when you need an emergency response after a fire in your home.